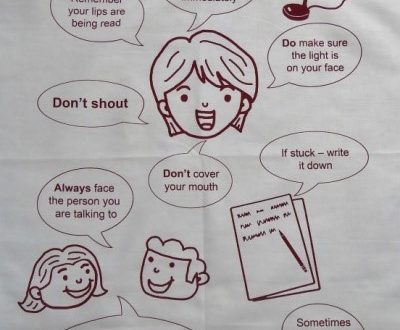 Tea Towel: When talking to a deaf person
[twocol_one]


[/twocol_one]
[twocol_one_last]
Description
Tea-towels with advice on talking to someone with a hearing loss. Great for displaying on a kitchen cupboard to remind the family.  High quality material, too good to waste on washing up!  Can be made into an apron, or a bag – send us your pics!
Price
Postage and packing of £2.99 per order (UK only) is added at checkout.
Buy one for £4
Buy one now and show friends and family for £4.
Special offer – 3 for £10
Or buy three and save money!
Terms & Conditions
Please allow up to 21 days for delivery, though most items will be processed sooner.
A flat rate of £2.99 is used for p&p for orders in the UK only. If you are from outside the UK please email shop@atlalipreading.org.uk for an adjusted rate.
In the event of any complaint please contact info@atlalipreading.org.uk
Contact the Shop
For any queries please contact shop@atlalipreading.org.uk
---
[/twocol_one_last]