Lipreading classes are great places to share tips for coping with difficult situations
Your teacher will be able to provide more information on any of these topics. Here we provide links to other useful websites and organisations.
Simply click on a situation for more information:
Using the phone
Do you struggle to hear on the phone? It's a big problem for people with a hearing loss. Obviously you can't lipread on the phone – but you can make it easier to hear, or you can use alternatives.
Did you know that iPhones and Blackberries have a built in loop for use with your hearing aid? You have to switch it on. For iPhone, go to Settings>General>Accessibility>Hearing aids> switch on. For other models, check your phone.

If you are using hearing aids, you are listening with a microphone on top of your ear. Try moving the phone around until you get the best sound.
---
Next Generation Text (NGT) – allows you to use any phone and receive what has been said in text on any connected device
If you have
a PC,
laptop,
tablet or
smartphone
you can download the free app called NGT lite to connect to this service:
Speak, and receive the reply in text
Type, and receive the reply in text
Type, and received the reply by voice
For more information go to ngts.org.uk
Emergency calls
You can register your mobile phone to make text 999 calls.
To register for 999 SMS text messages you must:
Send the word 'register' in an SMS message to 999
You will then receive SMS messages about the service
When you have read these SMS messages reply by sending 'yes' in an SMS message to 999
You will receive a SMS message telling you that your mobile phone is registered or if there is a problem with your registration
---
Coping at the theatre and cinema
Theatre
Watch the Stagetext video
• For live theatre with Stagetext subtitles nationwide, register for the Stagetext newsletter
Cinema
• Yourlocalcinema.com will send you information about subtitled films at cinemas near you. These are mainstream films with good quality subtitles provided as on TV.
Back to situations
---
Staying safe
Your local authority has a duty of care to ensure you are safe at home.
• Most local authorities have a sensory services team, who will assess you in your own home.
• Go to your local authority website to get contact details.
• They may be able to supply some equipment free.
• The fire brigade will supply and fit a smoke alarm, with a flashing light, and a vibrating pad for under your pillow.
"I now have three vibrators,"  said Joan with a twinkle in her eye: "One for my alarm clock, one for my smoke alarm, and one for the phone."
---
Coping at work
Access to work will assess you for equipment you need to stay in (or get) work. Examples of help provided include
amplified phones
arranging for a lipspeaker or electronic notetaker to help at meetings
providing deaf awareness training for other staff
---
Struggling even with hearing aids?
Have you thought about a cochlear implant?  If you are profoundly deaf in the high frequency range, you might qualify for one. Compare your audiogram with the one below.
The Ear Foundation has a wealth of information on cochlear implants – how they work, how to get referred, where to go.
---
Do you understand your audiogram? Do you know what the speech banana is?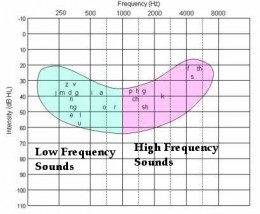 ---
Travel tips
There is no reason to let hearing loss stop you doing anything, or going anywhere, but some tips can take the stress out of travelling.
As a hearing aid user, you are entitled to a disabled rail card. It costs £20, cheaper than the older person's rail card, and it gives you 1/3 off the cost of tickets for you and another person. You can often get a discount on entry to attractions by showing it.
If you are worried about travelling by yourself on the train, you can book assistance. This is a free service, and you will be put on the correct train. If you have to change trains, you will be met and accompanied to your next train, and you will be met at your destination.
If you book online, you will get a full printed itinerary.
When you book a flight, do mention that you have hearing loss. You will get priority check in and boarding, and you will be able to sit beside the person of your choice without having to pay a surcharge.
When you book into a hotel, in this country or abroad, mention your hearing loss, even if you are with someone who can hear, as they might not be there in an emergency. Some hotels have vibrating pads for under your pillow that are connected to the fire alarm.
Take spare batteries and tubing. A drying pot is useful to keep your aids in overnight. If you are in a humid climate, put your batteries in there, to stop the backing tabs coming off. The batteries start to run down as soon as that is off. This is available quite cheaply from the Action on Hearing Loss catalogue.
If you are going somewhere particularly remote, the NHS can supply you with a spare aid. You will have to pay a deposit, and return it when you get back.
Photograph all important documents and any prescriptions with your phone, and email them to yourself. That way if your phone is pinched as well, you can access all the information anywhere you can get on the internet.
Always carry the address of where you are staying in writing, so if you get lost, you can get a taxi and show it to the driver. Keep pen and paper handy.
Make sure you have the time you need to meet, or return to a cruise ship written down – the ship will not wait!
Position yourself where you can see the VDU (Visual Display Unit) and remember even hearing people  struggle with tannoy announcements
Have fun!
---
Useful Links (to charities and non-commercial sites
Action for Deafness
Advice, support & information for deaf & hard of hearing in West Sussex
ALS – Association of Lipspeakers
aims to promote lipspeaking and its good practice and encourage the further development of lipspeaking as a communication service.
AoHL – Action on Hearing Loss
wants a world where hearing loss doesn't limit or label people, where tinnitus is silenced – and where people value and look after their hearing.
BANA – British Acoustic Neuroma Association
for people affected by acoustic neuroma to provide support and information and to encourage research
BDA – British Deaf Association
stands for Deaf equality, access and freedom of choice.
British-sign.co.uk
for British Sign Language (BSL) and fingerspelling on-line tools and resources.
BSA – British Society of Audiology
vision is building knowledge and empowering professionals to improve the lives of adults and children with hearing and balance problems.
BSHAA – British Society of Hearing Aid Audiologists
represents and promotes the interests of the independent hearing aid profession mainly within Great Britain and Northern Ireland but globally too.
BTA – British Tinnitus Association
provides support and advice about tinnitus.
Central England Lipreading Support Trust
was founded in order to raise funds to provide lipreading courses for adults to help them manage their hearing loss in a safe and supportive environment with like-minded people. Also has a very good Facebook group.
C2Hear Online
includes 10 interactive multimedia videos on different aspects of hearing aids and communication
or see on YouTube here
Connevans
is an online shop for deaf and hard of hearing people, for partially sighted people and those with dual sensory loss.
Deafplus (incorporating Deaf-access)
works to enable a better quality of life for people who are deaf, focusing on the person rather than the disability.
Deaf Strategies
is designed with hearing impaired people in mind. It brings together strategies that people with a hearing loss have found helpful to them in a variety of situations.  It has sections on hearing loss and hearing aids; how to get your family and d to co-operate; travel; crowded rooms; out-of-doors; equipment; useful organisations.
Deaf Umbrella (London and SE)
is London and the South-East's provider of communication support for deaf people
The Ear Foundation
is bridging the gap between clinic-based services, where today's exciting hearing technologies, such as cochlear implants & bone conducting hearing implants are fitted, and home, school and work where they are used in daily life.
Hear 2 Work
managing hearing loss in the work place
Hear-it.org
This non-commercial website has been established to increase public awareness of hearing loss.
Hearing Dogs
trains dogs to alert deaf people to sounds they can't hear.
Hearing like me
"an online community for people whose lives are affected by hearing loss. We bring together people from all around the world to share stories that inspire hope in almost any hearing loss situation."
Hearing Link
is a UK charity for people with hearing loss, their families and friends.
Hearing Loss Hour
is a monthly  discussion at 1-2pm on the first Wednesday of the month on Twitter (run by Hearing Loss Friendly) @HearingLosshour (TWITTER)
Hearing Times
provides up-to-date news and information for deaf and hard of hearing people, their relatives and friends, audiologists and professionals in the hearing industry.
Hearing Loss Friendly
A directory of accessible places to stay in the UK
Ideas for ears
Social enterprise helping people and organisation overcome hearing ability can have on enjoyment, participation and opportunity.  @ideasforears (twitter)
I look so I can hear
Facebook group  for those who are deaf with speech – the forgotten majority
Limping Chicken
is the UK's independently-run deaf news and deaf blogs site.
Living with Hearing Loss
is a blog for those living with hearing loss.
NADP – The National Association of Deafened People
was founded as a charity in 1984 by a group of deafened people who felt that their needs were only partly catered for by existing organisations.
NDCS – National Deaf Children's Society
is dedicated to creating a world without barriers for deaf children and young people.
NHS – National Health Service
provides a wide range of information about hearing impairment
Pipedown
campaigns for freedom from piped music
Quiet Corners
reviews of places without piped music
RAD – Royal Association of Deaf people
is committed to supporting Deaf culture, history and language. We consult with Deaf people to make sure we fully understand their needs.
Signal
works to empower deaf people and people with hearing loss both in the UK and overseas.
Soundz Off
Free on-line directory with links to organisations in the UK for the hard of hearing and d/Deaf
Stagetext
makes theatre and culture accessible to deaf, deafened and hard of hearing people
UK Deaf Sport
aims to encourage Deaf people to participate, to enjoy and to excel at sport.
Your Local Cinema.com
promotes accessible cinema for people with hearing or sight loss
Note: Inclusion on this list does not imply endorsement by ATLA. Updated September 2016.